As Kiwis feel the full force of record inflation, declining economic confidence, and a threatening recession, we see online spending on physical goods fall for the second quarter in a row. Online spending is now below where it was two years ago. At the same time, in-store spending on retail goods has seen a significant increase compared to the same quarter last year. 
Are we seeing shoppers switch back from online to physical shopping and, if so, what will that mean for where online shopping ends up in 2022?
Key numbers and trends for Q3 2022
Q3 online spending

$1.3b

vs Q3 2021

vs Q3 2019

+39%
Kiwis spent more than $1.3 billion buying physical goods online during Q3 2022. 75% of that spend was with local online retailers. 
The quarter's total online spend is down 14% compared to the same quarter in 2021 and down 1% on the levels it reached in Q3 2020. And while we've seen online spend fall below the previous year's level before, this is the first time, since we started monitoring the markets in 2017, that we've seen online spending fall below the levels it was two years before.  
Context is important here though because Q3 last year saw a spike in online spending as we went into a short-term nationwide lockdown that was then extended for Auckland, Northland and the Waikato. Q3 2020 was also impacted by lockdowns that saw elevated sales figures. A more like-for-like comparison to Q3 2019 shows Q3 2022 up a healthy 39%.
Online spending this quarter represented 10% of total retail spending on physical goods, down from its quarterly peak of 13% a year ago. 10% online penetration is equal to Q3 2020 and up from 8% in pre-pandemic Q3 2019.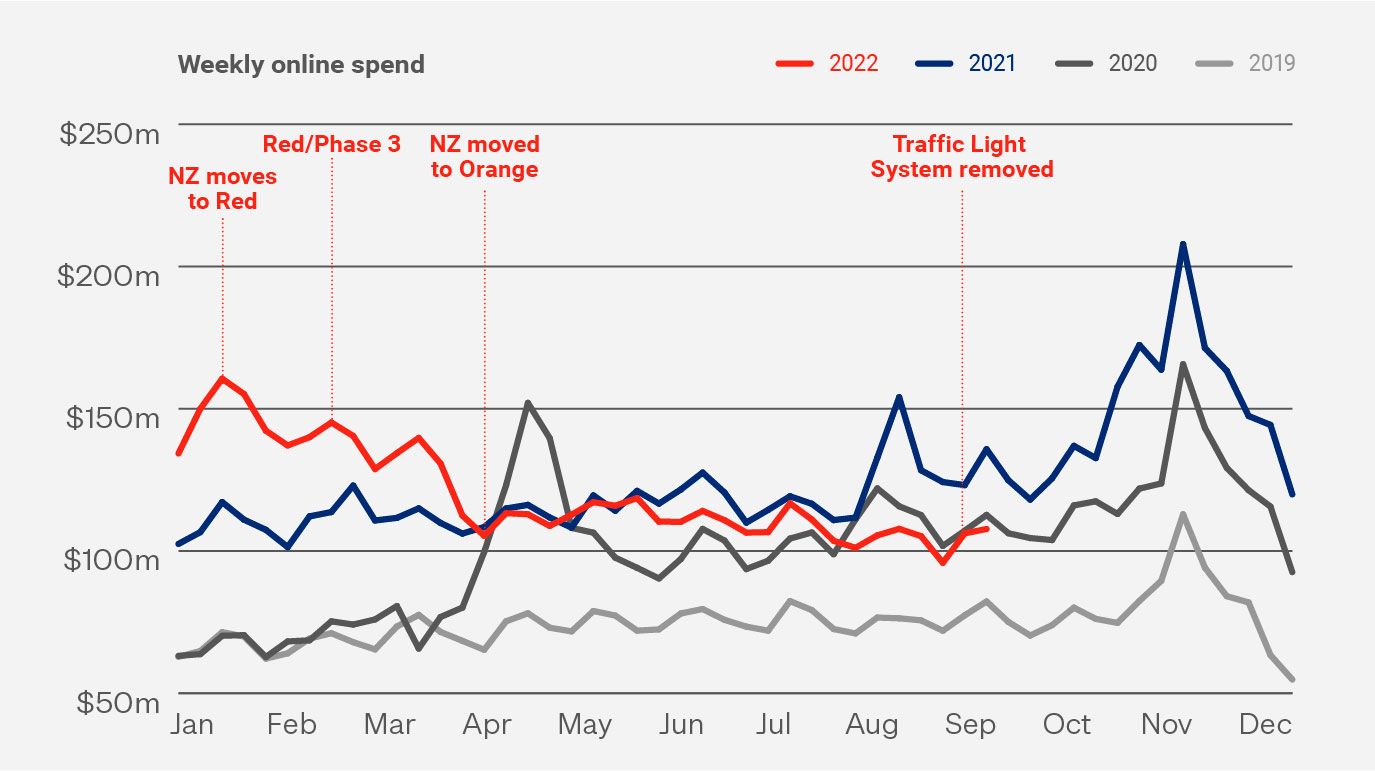 On the flip side of online spending declines, Kiwis significantly increased their in-store spending in the last quarter. In-store spending on physical goods reached nearly $12.4 billion in Q3 2022, up by nearly $2b (19%) from the equivalent quarter a year ago. It must be remembered that Covid lockdowns restricted people's ability to shop in-store during Q3 2021 and that negatively impacted their sales. In-store spending is 5% above Q3 2020 levels, and 14% above pre-pandemic Q3 2019 levels.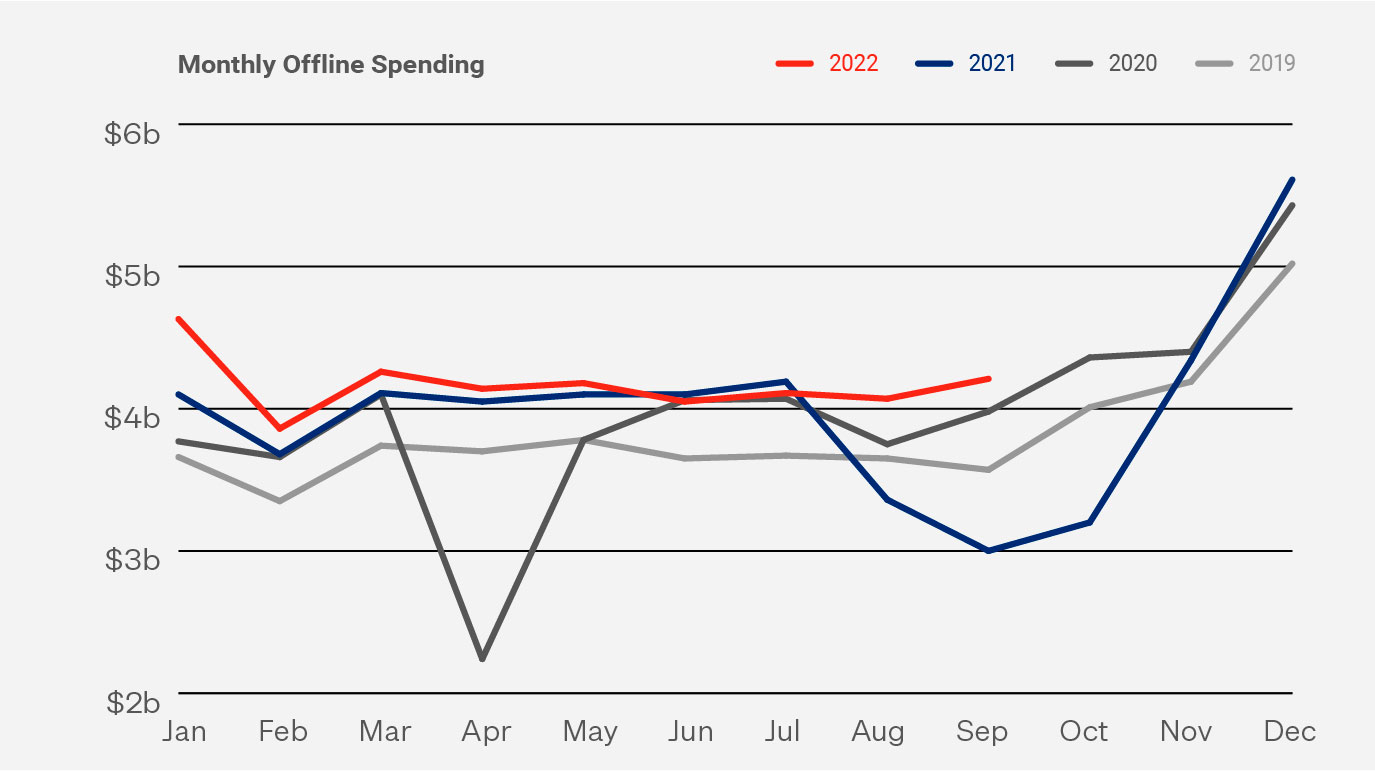 Clearly, with borders reopening and mask-wearing requirements gone, Kiwis are enjoying being out and about more, travelling and going to shows and events. This out of home activity is seeing shoppers spending on a much wider range of goods and services, helping physical retailers to continue their recovery from the tough times of the last few years.
Despite the economic conditions, total spending on physical goods - online and in-store - was $13.7 billion for Q3 2022, up 15% compared to Q3 2021, and 16% up on pre-pandemic Q3 2019.  Even adjusted for inflation, these are healthy levels of growth.
On the surface, the last quarter's numbers indicate a channel shift with online spending decreasing while offline spending is increasing. Comparing Q3 2022 with a quarter last year that was in lockdown, makes it difficult to reach this conclusion with total certainty. But the signs are definitely there that the return of a 'more normal' pre-pandemic environment combined with a tighter economic environment is encouraging many shoppers to return to some of their pre-pandemic habits. 
Multi-channel retailers are in the best place to benefit from this potential preference shift while pure online retailers may need to consider how they maintain existing customer loyalty and/or how they reinforce the benefits of buying online compared to in-store.
Key online spend drivers
As always we monitor the three key drivers of online spend – the volume of transactions, the average spend per transaction and the number of Kiwis shopping online.
Q3 Online transactions
vs the same period last year

-19%

Q3 Average basket size
vs the same period last year

September online shoppers
vs the same period last year

-15%
Online Transactions: Kiwis made more than 11.7 million online retail purchases during the last quarter. This is down 19% compared to Q3 2021 and the second quarter in a row that we've seen transaction numbers fall compared to the previous year. This quarter's transactions are still a healthy 22% above pre-pandemic Q3 2019 levels.
Average Basket size:  The average online transaction for the quarter was $116. This is up 6% ($6.73) from Q3 2021 but given that inflation is hovering above 7% it is likely the rise partly reflecting the increased cost of buying the same goods. $116 is 14% up on pre-pandemic Q3 2019.
Number of Shoppers: The number of people shopping online each month has been steadily declining throughout the year and this continued through Q3 2022.  In January 2022 we saw around 1.8m Kiwis shop online. By September this has dropped to just over 1.3m. This is 16% below September last year and only 6% above the number of shoppers online in September 2019.
Sector trends
All sectors experienced a decline in online spend compared to Q3 2021. Department, Variety & Misc. Retail Stores (down 24%) was the fastest declining sector compared with Q3 2021. This is a sector with many large multichannel retailers who have a significant nationwide physical footprint. Potentially this result suggests a shift from online to instore for the sector. 
Clothing and Footwear (down 17%) and Homewares, Appliances and Electronics (down 14%) had the next highest levels of decline. 
Online spending by sector

Q3 2022
spend

Change from
Q3 2021

Change from
Q3 2019

Department, variety & misc retail stores
$293m
-24%
19%
Clothing & footwear
$275m
-17%
51%
Homewares, appliances & electronics
$219m
-14%
43%
Speciality food, groceries & liquor
$361m
-8%
66%
Health & beauty
$108m
-6%
26%
Recreation, entertainment, books & stationery
$88m
-5%
-6%

Throughout 2022, we've seen online shoppers make the switch from non-essential to essential spending. It's a trend that continued through this last quarter. For example, we saw an overall sector decline for Speciality Food, Groceries, and Liquor spending, driven by declines in non-essential spending, like liquor. Within the sector however we see growth in essential grocery stores and supermarkets spending. 
A recent report published by Kiwibank* suggested that when it comes to more discretionary, luxury, spending people are being more discerning, seeking value-add experiences after a few years of restricted lifestyle. For example, instead of buying specialty foods, coffee and liquors for home they are going out and catching up with friends. 
The year that's been and what's ahead
In the year to 30 September 2022, online spending has reached over $4.5 billion, 3% higher than where it was last year. This result is driven by a strong start to 2022 when shopping behaviours were highly influenced by the rapid spread of Omicron. Since January 2022, online spending has continued to trend down each month. 
2021 finished with a massive last quarter online driven by lockdowns, especially in Auckland. With limited chance of further lockdowns, fewer Kiwis shopping online, tougher economic conditions and more shoppers getting out and about, we don't expect the same highs for Q4 2022.
The big shopping events (Click Frenzy, Singles' Day, Black Friday and Cyber Monday) leading into the Christmas peak shopping period are coming up, and this will see online spending increase compared to the quarter that's been. We don't expect this peak to be anywhere near as high as the record levels we saw last year.  It wouldn't surprise us if we finished up the year with online spending down as much as 5% on 2021 levels. 
Regardless of where the year ends up, the biggest opportunity for online retailer is capturing their share of spending in this upcoming Q4 peak, especially around the big sales events.  We encourage retailers to check out the selection of tips, tools and insights on this site, designed to help them make the most of event days.
* Kiwibank Household Spending Tracker https://inner.kiwi/commentary/consumer-spending-holding-now/